Sigma Health Consulting contributes support and services to charities, educational programs and cultural activities that have positive impact at the global, national and local level.  Sigma and its employees are involved in volunteer support of activities that improve the health and well-being of the communities we work in. Our team is dedicated to sharing their time, skills and leadership to support military members, Veterans, families, and youth to improve lives and promote success. Every person counts!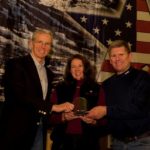 National Disabled Veterans Winter Sports Clinic:
Sigma is an annual sponsor of the NDVWSC. The National Disabled Veterans Winter Sports Clinic is a world-leader in adaptive winter sports instruction for U.S. military Veterans and active duty servicemen and women with disabilities.  Sigma's staff volunteers at this event every year; we are inspired and enriched by our interaction with Veterans.
National Academy of Sciences and Institute of Medicine:
The National Academies (National Academy of Sciences, National Academy of Engineering, National Academy of Medicine/Institute of Medicine and National Research Council) is a congressionally chartered private, nonprofit institution. The National Academy of Medicine (NAM) established in 1970 under the name Institute of Medicine (IOM). NAM provides advice to the nation and the international community on diverse fields including health and medicine; the natural, social, and behavioral sciences; and beyond.  NAM's initiatives respond to current and emerging needs in health, medicine, and related policy. The National Academy of Medicine's work is accomplished through a dedicated cadre of eminent experts who volunteer their time and knowledge in support of sound policies, informed public opinion, and advancing the pursuit of science, engineering, and medicine.
Dr. Murphy has been a volunteer scientist at the National Academy. Her activities include service as a member of the National Academy Human Studies Institutional Review Board (2010 – present), Institute of Medicine's Board on Special Populations and Medical Follow-Up Agency Board (2011-2015).
Dr. Murphy has served on several Institute of Medicine Committees including the Committee on the Evaluation of the Captain James A. Lovell Federal Health Care Center Merger. (IOM 2012) and the Committee on Readjustment of Military, Veterans and Families (IOM 2013); she currently serves as a member of the Airborne Hazards and Open Burn Pit Registry (AH&OBPR) Independent Scientific Research Committee (2015 – present).
Nurses Organization of Veterans Affairs (NOVA) Foundation:
The NOVA Foundation is a non-profit organization that provides scholarships to VA staff for nursing study in accredited baccalaureate and post-graduate programs.  Sigma was a platinum sponsor of the NOVA Foundation First Annual Golf Tournament raising funds for educational programs that are vital to ensure the availability of qualified VA nurses to care for our aging Veteran population and our newest generation of Veterans injured or traumatized in recent conflicts.
American Council for Technology (ACT) Industry Advisory Council's (ACT-IAC) Volunteer Corps
Sigma's President, Wasfi Alnabki, was elected in 2011-2012 to serve as the Industry Chair for the American Council for ACT-IAC Volunteer Corps, which is a government and industry volunteer charity program to provide ACT-IAC member resources for the benefit of the community at-large.
Sigma have led and/or participated in various Volunteer Corps events including:
Marine Corps Family Foundation – a non-profit organization that encourages and supports our United States Marines and their families through the administration of special projects, coordinating volunteers & donations, and networking. With the ACT-IAC Volunteer Corps, we helped fund, organize and host the USMC Operation Santa packing party events. These annual events sponsor troops and fill Holiday packages for Marines deployed and serving our country throughout the world.
Honor Flight Network – a non-profit organization created solely to honor America's Veterans for all their sacrifices by transporting these heroes to Washington, D.C. to visit and reflect at their memorials. Top priority is given to the senior Veterans – World War II survivors, and other Veterans who may be terminally ill. With the ACT-IAC Volunteer Corps volunteers, we scheduled, coordinated and organized a team of approximately thirty industry and government resources to welcome WWII Veterans as they arrived in Washington, D.C.
Greater DC Cares 9/11 National Day of Service & Remembrance – an event organized by Greater DC Cares that creates the opportunity for more volunteers in the DC metropolitan area region to engage in service and remembrance of 9/11. With the ACT-IAC Volunteer Corps volunteers, we scheduled, coordinated and organized a team of approximately twenty industry and government resources to paint classrooms at the Maya Angelou Charter School in Washington, D.C.
Operation Jump Start – a charity event to help the service members of Operation Iraqi Freedom and Operation Enduring Freedom transition to civilian careers. Through donations of quality suits, gift cards, and cash donations, Operation Jump Start is able to give back to the service members who give us so much. As a sponsor for Operation Jump Start, Sigma provided aid to returning service members transitioning to the private sector. In addition to the corporate sponsorship, Sigma Health Consulting employees made donations and volunteered at the event to show support for our Veterans.
Operation Covert Santa – a charity that supports recently injured soldiers and their families at Christmas time. Operations Covert Santa pairs a wounded warrior family with volunteers who anonymously purchase and wrap gifts. – Calvary Women's Services – Since 2010, Mr. Alnabki, has served on the Board of Directors; he is also a former Board President. Sigma provides charitable contributions to Calvary in support of their transitional and permanent housing, personalized case management, life skills and education opportunities, job training, health and wellness services, on-site therapy programs.